"The President's Own" United States Marine Band and Fireworks in Summer 2017 Blast Off at Wolf Trap National Park for the Performing Arts
Theo nguồn tin trên mạng của The Wolf Trap Foundation
WHAT: 2017 SUMMER BLAST OFF! "THE PRESIDENT'S OWN" UNITED STATES MARINE BAND WITH FIREWORKS!
WHEN: Sunday, May 28, 2017 at 8 pm
WHERE: Filene Center, 1551 Trap Road, Vienna, VA 22182
PRICE: Free
LIMITED CAPACITY
**PARK WILL CLOSE AT CAPACITY**
"The President's Own" United States Marine Band will launch Wolf Trap National Park for the Performing Arts' summer season with a program of concert band favorites. A fireworks display will follow the concert.
Gates open at 6:30 pm for Lawn and In-House (90 minutes prior to curtain)
Fireworks viewing area opens following the performance, at approximately 9:30 pm
Fireworks begin at approximately 9:45 pm
Note: There is no Wolf Trap Express Shuttle bus service for the Summer 2017 Blast Off performance.
Captain Ryan J. Nowlin* | "Let Freedom Ring"
Jean-Baptiste Arban (1825–89) and Herbert L. Clarke (1867–1945) | "The Carnival of Venice"
adapted by Steven Kellner*
MSgt Mark Jenkins and GySgt Ryan McGeorge, euphonium soloists
arranged by Chris Walden | Original Dixieland Jazz Band's "Tiger Rag" from Tribute to Benny Goodman featuring the clarinet section
adapted by Stephen Bulla*
John Williams (b. 1932) | "The Jedi Steps and Finale" from Star Wars: The Force Awakens
arranged by Paul Lavender
Alan Menken (b. 1949) | Overture from Beauty and the Beast
transcribed by Paul Lavender
Alan Menken (b. 1949) | Beauty and the Beast
lyrics by Howard Ashman
arranged by SSgt Scott Ninmer*
GySgt Sara Sheffield, mezzo-soprano
MSgt Kevin Bennear, baritone
arranged by Captain Ryan Nowlin* | "Amazing Grace"
GySgt Sara Sheffield, mezzo-soprano
MSgt Kevin Bennear, baritone
Piotr Ilyich Tchaikovsky (1840–93) | Overture Solennelle, "1812," Opus 49
transcribed by MGySgt Donald Patterson*
John Philip Sousa* (1854–1932) | March, "The Stars and Stripes Forever"
arranged by Thomas Knox* (1937–2004) | A Salute to the Armed Forces of the United States of America
MSgt Kevin Bennear and GySgt Sara Sheffield, concert moderators
*Member, U.S. Marine Band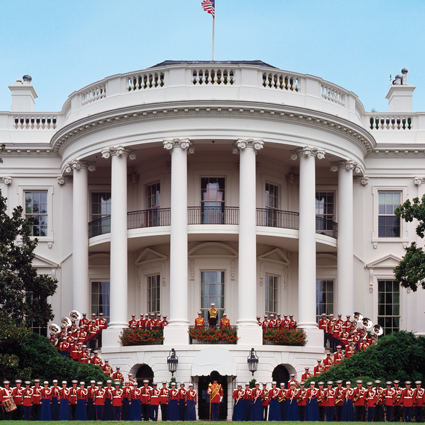 Lưu ý: Chúng tôi không chịu trách nhiệm về lỗi ấn, thay đổi giá, hàng thay thế, hoặc có sẵn mặt hàng quảng cáo.
Note: We are not responsible for typo error, price change, substitute item, or available of item from online ads.
http://www.wolftrap.org/tickets/calendar/performance/blastoff.aspx