Theo nguồn tin Greater Reston Chamber of Commerce trên mạng của prweb.com
Joining forces with South Lakes High School for 24 years.
RESTON, VA (PRWEB) NOVEMBER 23, 2016
The Greater Reston Chamber of Commerce (GRCC) hosted our 24th annual Ethics Day event on November 22, 2016 from 8:00am to 2:00pm at the Sheraton Reston. Each year the Reston Chamber invites the entire senior class of Reston's South Lakes High School to travel off-site to the Sheraton Reston. Over 550 students spend the day working through ethical dilemmas and learning how decision making will affect their adult lives.
Facilitated by volunteers, students experienced a series of real-life scenarios and reached decisions on topics including personal relationships and accountability, medical emergencies, texting and driving, public safety, substance abuse and cyber bullying. This year students were introduced to a new room sponsored by Leidos called the "Unconscious Bias Room." The intent, in these scenarios, had students thinking about how unconscious biases influence workplace interactions and the "filters" they can use to reframe their thinking through a more diverse and inclusive lens.
Kim Brophy Retzer, Principal of South Lakes High School states, "Ethics Day is a great experience for our seniors to be exposed to four scenarios where they are challenged to think through and articulate their opinions on real-world ethical situations.The opportunity for our students to interact with many area business leaders in a professional setting is valuable. We are grateful to the Reston Chamber of Commerce and all the business sponsors who make this day happen every year."
Ethics Day is a program that was initiated by one of Reston's key business leaders Charles A. Veatch in 1992. Mr. Veatch saw an opportunity to bring the business community together with Reston's youth to consider the importance of integrity in action. Mr. Veatch approached the Greater Reston Chamber of Commerce (GRCC) to produce the program. Ethics day has become a model for similar programs across Fairfax County and the region.
"The Greater Reston Chamber of Commerce is proud to be the first Chamber in the Northern Virginia area to develop a program that engages our future leaders and gives our members a chance to give back to our community. This ethical discourse challenges our youth and encourages our volunteers. We look forward to this continued partnership that brings the business and community together", says Mark Ingrao, President and CEO of the Greater Reston Chamber of Commerce.
For more information about Ethics Day or to schedule an interview please contact Tonia Chagnon, Communications Manager, at toniac(at)restonchamber(dot)org or call 703-707-9045.
About Greater Reston Chamber of Commerce
The Greater Reston Chamber of Commerce is the catalyst for business growth and entrepreneurship by providing quality programs, education, connections and advocacy for our members and organization in the Dulles Corridor and western Fairfax. Learn more at http://www.RestonChamber.org.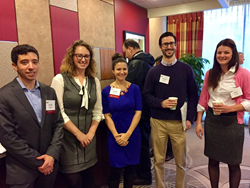 http://www.prweb.com/releases/2016/11/prweb13875997.htm