Theo nguồn tin trên mạng của Thành phố Falls Church
NEWS RELEASE
City Declares Local Emergency for COVID-19 Pandemic
Tuesday, March 17, 2020 — The Falls Church City Council has declared a local emergency in response to the COVID-19 (coronavirus) pandemic. The declaration is effective as of 10:00 p.m. on Monday, March 16. This activates the City Emergency Operations Plan and authorizes the provision of aid and assistance as prescribed by State law and City Code and the ordinances, resolutions and approved plans of the City of Falls Church, in order to mitigate the City's response to the pandemic. This emergency declaration shall remain effective until rescinded by a separate action.
Mayor David Tarter released a video addressing the residents and businesses of the City of Falls Church (see below). He asks that residents support one another, although from afar.
"We understand that this situation presents significant difficulties for our community," Mayor David Tarter said. "All of us will face challenges. The Little City must pull together for the health and future of all our treasured residents and businesses."
"Your actions can make a huge difference in slowing the spread of the disease — namely, staying home and practicing social and physical distancing. Small private choices can have profound implications. Think of your neighbors as you think of yourself. That's the City of Falls Church way."
The City has taken the following steps to respond to COVID-19:
Library and Community Center are closed, and all programs and services are cancelled.
The Falls Church City Public Schools have closed and are instituting remote learning and are reaching out to the families of their students in need.
The City has released a policy on essential versus non-essential meetings intended to limit public gatherings.
The City has provided constant updates on public health messages from the Fairfax Health Department.
The City is reaching out to vulnerable populations to ensure they have accurate, reliable information for their safety.
The City is taking strong actions to implement teleworking while ensuring that core City services continue.
The City's website, www.fallschurchva.gov, serves as a central information hub for announcements related to City services, as well as links to key information from the Fairfax Health Department (the City's health department) and the Centers for Disease Control (CDC).
Residents are encouraged to check these resources and subscribe if available:
Subscribe to email updates to the City's central COVID-19 information hub: https://www.fallschurchva.gov/list.aspx?ListID=167.
Subscribe to Falls Church Alerts, https://alert.fallschurchva.gov to receive emails, texts, and/or phone calls about large-scale emergency updates.
Fairfax Health Department Information and Updates on COVID-19 (link)
Fairfax Health Department's FAQs (link)
Call the Fairfax Health Department from 9:30 am to 9 pm weekdays and 9:30 am to 5 pm on weekends.: 703-267-3511 (TTY 711)
Email: ffxcovid@fairfaxcounty.gov. This account will be staffed by Fairfax Health Department employees, Monday through Friday, 8 am to 8 pm.
###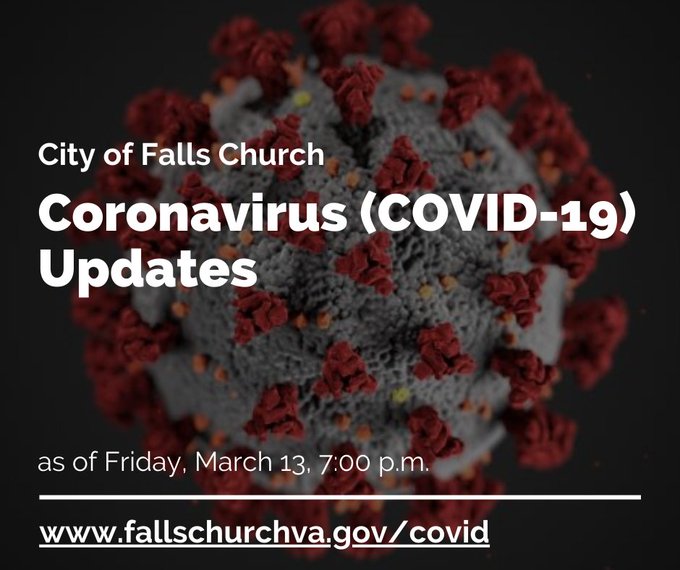 https://www.fallschurchva.gov/CivicAlerts.aspx?AID=933