Theo nguồn tin trên mạng của thành phố Falls Church
Lễ hội Fairfax Fiesta
Thứ Bảy, ngày 23 tháng 9 năm 2023
The PARC at Tysons, 8508 Leesburg Pike, Vienna, VA 22182
12 giờ trưa đến 5 giờ chiều
Fairfax Fiesta, lễ kỷ niệm Di sản Tây Ban Nha đầu tiên của Quận Fairfax hứa hẹn một trải nghiệm độc đáo cho mọi lứa tuổi và mọi hoàn cảnh. Tôn vinh văn hóa Tây Ban Nha và sự đa dạng trong cộng đồng của chúng ta thông qua bầu không khí tự do, lễ hội và thân thiện với gia đình này! Tạo ra những kỷ niệm khó quên với bạn bè, hàng xóm và những người thân yêu trong khi tìm hiểu về các nền văn hóa khác nhau trên thế giới.
WHAT: Fairfax Fiesta
WHEN: Saturday, September 23, 2023 from 12 PM to 5 PM
WHERE: The PARC at Tysons, 8508 Leesburg Pike, Vienna, VA 22182
Fairfax Fiesta, the first Fairfax County Hispanic Heritage celebration promises a unique experience for all ages and backgrounds. Celebrate Hispanic culture and diversity in our community through this free, festive, and family-friendly atmosphere! Create lasting memories with friends, neighbors and loved ones while learning about different cultures around the world.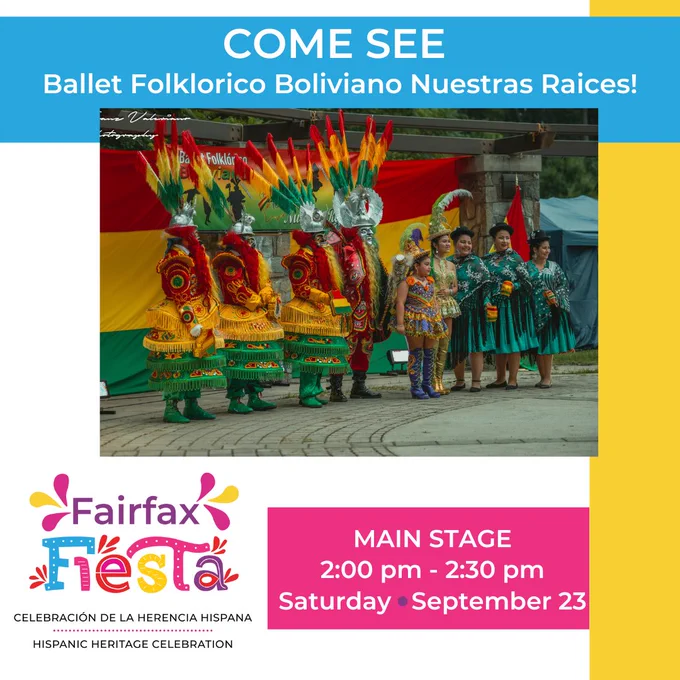 https://celebratefairfax.org/fairfax-fiesta/