Theo nguồn tin của Tyson Corner's Center & Visit Fairfax
Hãy tham gia cùng chúng tôi khi chúng tôi kỷ niệm tiểu bang của mình! Thưởng thức Made in Fairfax và chợ thủ công địa phương, nhạc sống từ các nhạc sĩ ở Virginia, nếm thử từ 5 nhà máy bia trong Virginia và tham gia vẽ tranh tường cộng đồng với nghệ sĩ Kevin Bednarz! Quay bánh xe Tysons để nhận hàng hóa tùy chỉnh phiên bản giới hạn "Virginia dành cho những người yêu thích mua sắm"!*
Các buổi nếm thử từ Nhà máy rượu vang Virginia sẽ được cung cấp độc quyền trong phần Rượu & Sức khỏe. Cần có vé và số lượng chỗ có hạn. Tiền thu được từ việc bán vé mang lại lợi ích cho đối tác từ thiện cho Food for Other.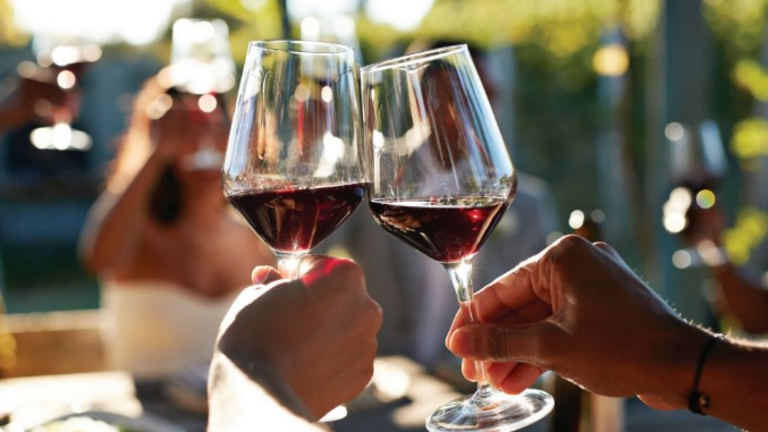 WHAT: CELEBRATE VIRGINIA
WHEN: SEPTEMBER 16, 2023 from 11 AM to 4 PM
WHERE: THE PLAZA at Tysons Corner Center
1961 Chain Bridge Road
Tysons, VA 22102
glasses of wine clinking together
Join us as we celebrate our home state! Enjoy a Made in Fairfax and local artisan market, live music from VA based musicians, tastings from 5 VA breweries-hosted by Barrel & Bushel, and take part in painting a community mural with artist Kevin Bednarz! Spin the Tysons wheel for limited edition "Virginia is for Shopping Lovers" custom merch!
Purchase tickets for the VIP Wine & Wellness experience: here
General admission includes:
Performances from:
DanYko (Alexandria)
Tejas and Felix (Fairfax City)
Zac Quintana and Shawn Cody (Manassas)
Participating Virginia Breweries – Hosted by Barrel & Bushel:
Strange Fruit Brewing (Chantilly)
Brother Craft Brewing (Harrisonburg)
Smartmouth Brewing (Hampton Roads)
Three Road Brewery (Lynchburg)
Virginia Makers Market:
River Sea Chocolates (Chantilly)
Mother Cluster's (Fairfax)
Trupti's Craft:
Quilling Gifts (Fairfax)
Inner Loop Coffee Roasters (Falls Church)
Alyssa Mae Crafts (Tysons)
JHK Photography (McLean)
Snugabutter (Annandale)
Nothing Bundt Cakes (Vienna)
Wine and Wellness Ticketed VIP Section
The Wine & Wellness VIP Tent will feature a special pop-up experience from Virginia's only Forbes Five Star spa in the state – Salamander Middleburg as well as their luxury sister hotel and spa in Washington, DC – Salamander DC. The luxury hotel brand will highlight a variety of signature products to showcase their on property treatments including their vino inspired line of offerings. Guests will be greeted with an interactive experience where they can blend and purchase their own personalized aromatherapy oil. Salamander will provide attendees the option to purchase gift cards and schedule treatment bookings at one of their two regional locations. They also will host a raffle drawing for a complimentary treatment experience at each spa location.
Enjoy tastings from eight Virginia Wineries and receive a charcuterie box from Ashburn-based The Cornichon.
Tickets are required and space is limited. Proceeds from the ticket sales to benefit charitable partner, Food For Others.
Participating Wineries include:
Barrel Oak Winery
8 Chains North
Fleetwood Farm Winery
Morais Vineyards & Winery
Paradise Springs Winery
The Winery at La Grange
Chateau O'Brien Winery & Vineyard
Williams Gap Vineyard
Purchase tickets: here
In partnership with Visit Fairfax and Virginia Tourism Corporation. This event is sponsored by George Mason University, Northern Virginia Orthodontics, Lafayette Federal Credit Union and Sunrise of McLean Village and Sunrise Vienna.
https://www.tysonscornercenter.com/Events/celebratevirginia