A Walk in the Park with Supervisor Kathy Smith
Theo nguồn tin trên mạng của quận Fairfax
WHAT: A Walk in the Park with Supervisor Kathy Smith
WHEN: Saturday, November 3, 2018 from 8 a.m. to 10 a.m.
WHERE: Ellanor C. Lawrence Park: Walney Visitor Center
5040 Walney Road
Chantilly, VA, 20151
Community Events
11/03/2018 8:00 am to 11/03/2018 10:00 am
Kick off the weekend with a healthy start. Join Supervisor Kathy Smith for an active 2-mile walk through historic Ellanor C. Lawrence Park. We will take advantage of the beautiful fall foliage, and learn about the park's upcoming events and community resources. All ages and fitness levels are welcome!
Location: The walk starts at 8:00 a.m. at the Walney Visitor Center (5040 Walney Road, Chantilly, VA 20151)
Connect with Supervisor Smith and her staff as they travers the trails using hashtag #SmithsWalkInThePark. Follow us on Facebook Live Connect during the walk.
Navigate with the Trail Buddy App.
Contact: Amber-Lee Leslie
Phone #: 703-814-7100
Email: sully@fairfaxcounty.gov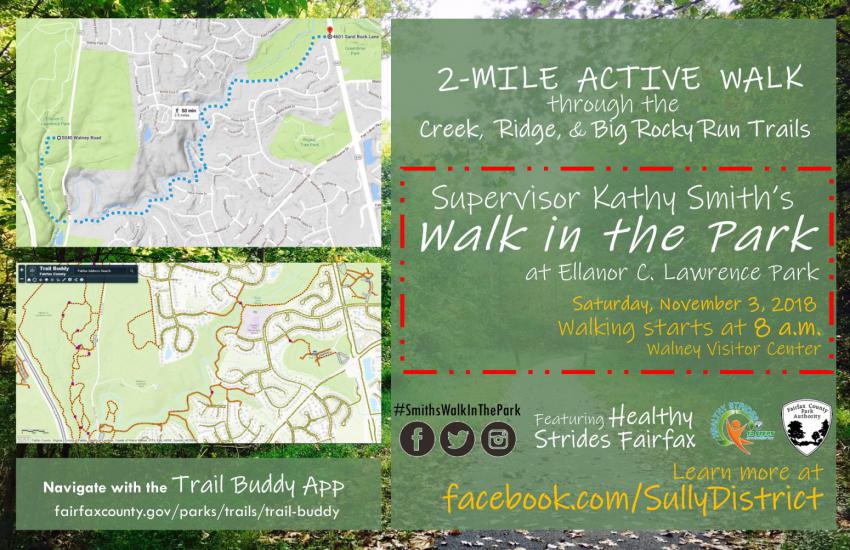 https://www.fairfaxcounty.gov/sully/walk-park-supervisor-kathy-smith