Scam Jam Fraud Fighting Event
Theo nguồn tin trên mạng của Fairfax country & AARP
WHAT: Scam Jam Fraud Fighting Event
WHEN: Saturday, April 27, 2018 from 9 AM to 1 PM
WHERE: Fairfax County Government Center, 12000 Government Center Parkway, Fairfax, VA, 22035
Bring Your Documents to Shred
We will have a shred truck on-site from 8:00 a.m. until 12noon OR until the shred truck fills up so come early! Your documents will be shredded on-site free of charge. Residential material of a sensitive nature such as tax documents, financial records, etc. (Please recycle junk mail and magazines through your normal collection service.) Up to four medium-sized packing boxes per vehicle. Please, no plastics or electronics.
Safely Dispose of Unused Medications at the Scam Jam
Police will be on hand with a Drug Take-Back box. Bring your unused or unneeded medications to the Scam Jam for a safe, convenient, and responsible way of disposing of drugs. Accepted items include prescription medication (schedule II-V controlled and non-controlled), prescription ointments, over-the-counter medications and medications for pets. Prohibited items include needles (sharps), liquids of any kind, illegal drugs, non-prescription ointments and lotions, aerosol cans, and inhalers.
Agenda
9:00 – 9:15
Welcome Remarks
Penelope Gross, Vice Chairman, Mason District Supervisor, Fairfax County Board of Supervisors
Pat Herrity, Springfield District Supervisor, Fairfax County Board of Supervisors
9:15 – 10:15
Keynote Address Out-smarting the Scammers, Susan Hogan, Consumer Investigative Reporter for NBC4
10:30 – 11:30
AARP Fraud Watch Network, Lil Keys, Executive Council Member and Community Ambassador, AARP Virginia
Fairfax County Adult and Aging Services, Allison Fitch, Financial Exploitation Coordinator, Fairfax County Adult Protective Services
Protecting Yourself from Frauds and Scams After Disasters, Sulayman Brown, Assistant Coordinator, Fairfax County Office of Emergency Management
Grandparent and Woodchuck Scams, Detective Jonathan Loesch, Fairfax County Police Department
11:30 – 11:45
Break – Participants visit resource tables
11:45 – 12:15
Protecting Yourself from Internet, Telephone and Mail Fraud, Ray Campbell, U.S. Postal Inspector, United States Postal Inspection Service
12:15 – 1:00
How to Save Big, Sidestep Scams, and Be A Savvy Consumer, Elisabeth Leamy, Consumer Columnist for The Washington Post
1:00 – 1:30
Lunch and time for participants to visit resource tables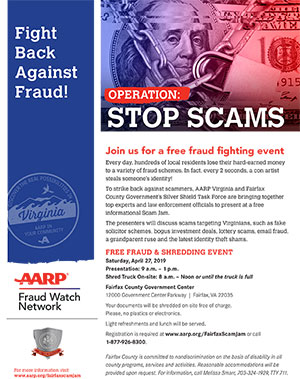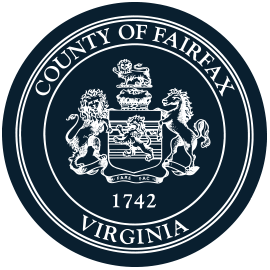 https://www.fairfaxcounty.gov/scam-jam-fraud-fighting-event