Trick or Treat, Trunk or Treat trong đường lái xe tròn ở phía trước City Hall của thành phố Fairfax từ 1 giờ đến 4 giờ chiều ngày 31 tháng 10 năm 2019
Theo nguồn tin trên mạng của thành phố Fairfax
năm
Trick or Treat, Trunk or Treat at City Buildings
Date:
10/31/2019 1:00 PM – 3:59 PM
Location:
City Hall
10455 Armstrong Street
Fairfax, Virginia 22030
Add to my Calendar
Trick or treat trunk or treat 2019Get your trick or treat on with the City of Fairfax. Bring your boos and ghouls to trick or treat in costume 1-4 p.m. October 31 at these municipal facilities:
City Hall – 10455 Armstrong Street
Green Acres – 4401 Sideburn Road
Sherwood Center – 3740 Old Lee Highway
Fairfax Museum & Visitor Center – 10209 Main Street
Trunk or Treat in the circular driveway in front of City Hall from 1-4 p.m. October 31.
Click here, or click on the image on the left, to download a flyer.
Information: WeCare@fairfaxva.gov , 703-385-7850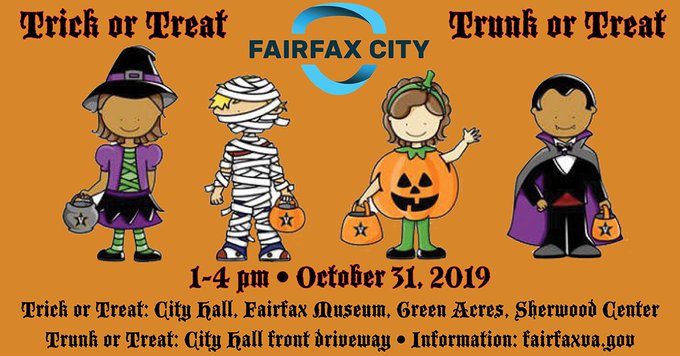 https://www.fairfaxva.gov/Home/Components/Calendar/Event/13566/20